Cold Jet CONNECT®
Enhance productivity through an unrivaled intelligence, customer service and support platform.
Increased Machine Efficiency & Uptime
Get the most out of your dry ice blasting and production equipment with Cold Jet CONNECT, our world class connection to you, our valued customer.
CONNECT offers remote support, virtual guided repair, machine analytics for data-drive decisions and much more!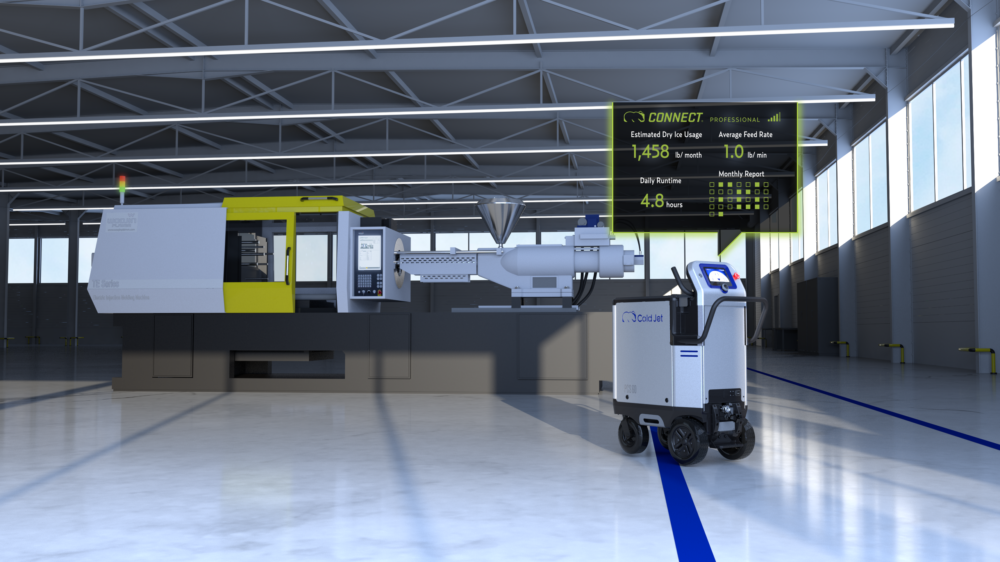 Data. Information. Insights.
These are today's currencies and the keys to your success. Cold Jet CONNECT introduces Industry 4.0 capabilities to our portfolio of dry ice technologies, providing you with a clear view of the data you need
to make decisions that will accelerate your return on investment and profitability through increased machine efficiency and uptime.
CONNECT enables tracking and support of your installed fleet of Cold Jet equipment and helps you understand, control, delegate and orchestrate your daily business without us needing to be physically present.
World Class Support & Service You Can Rely On
We take pride in being the global leaders in dry ice technology. As such, our technical service team receives extensive, ongoing training to offer best-in-class support to our best-in-class customers. With service center strategically located around the world, we truly offer our customers global-local support.
Highly trained and experienced team

Technicians and support team receive extensive training on Cold Jet machines, allowing them to deliver world-class support.

13 service centers located in 10 countries


With service centers around the globe, our technicians are always within reach.

Customer Service & Support Professionals on Standby

Easily connect with Cold Jet professionals by phone, email, integrated chat, or service request forms.

Remotely monitor and diagnose machines with Cold Jet CONNECT

Ensure your machine is always running efficiently by remotely monitoring via our IoT solution
Machine Documentation At Your Fingertips
In order to keep your machine operating as efficiently as possible, Cold Jet CONNECT offers quick access to your machine documentation from any smartphone, tablet, or computer. Simply scan the QR code on your machine to gain access to:
Your machine's operator manual
Product documentation
Quoting tool for service & parts
Operator training videos
Part & accessories catalog
Warranty & service agreements*
* only for Analytics and Enterprise subscription levels
IoT-Enabled Machines for Data-Driven Decisions
Cold Jet CONNECT introduces Industry 4.0 technology to our dry ice blasting and production equipment. This allows machine operators, management, and Cold Jet technical experts to access vital operational data, ensuring your machines are running at peak performance. Accelerate your profitability and return on investment by improving machine efficiency and uptime with machine analytics.
Real-time Machine Operation Data

Receive data such as dry ice usage, average feed rates, daily runtime, and more. 

Data-Driven Decision Making

Machine analytics provide the data needed to accelerate profitability and efficiency.

Data for Business Intelligence Platforms

Easily export machine data to import into any business intelligence platform of your choosing.

Receive Job Reports

Dial-in your machine usage with pre-configured or custom monthly job reports.

Preventative Maintenance Reminders

Receive notifications when your machine is due for preventative maintenance. 

Historical Service Records

Easily access historical maintenance and service records for your machine. 

Geolocation Services

Track the last known general location of your machines in the field.

Diagnostics Mode

Operational data sent to Cold Jet technicians to quickly identify and resolve any issues. 

Over-the-Air (OTA) Updates

Keep your machine up-to-date with OTA firmware updates. 
Cold Jet smart blasters offer connectivity via cell networks to provide pertinent machine information (dry ice usage, runtime, geolocation, etc.) and a direct connection with Cold Jet technical experts. This allows for better, data-driven decisions that increase efficiency, productivity, and profitability while minimizing travel requirements for support and service – all in an effort to reduce our carbon footprint.
Enhanced Support to Better Protect Investments
As global leaders in dry ice technology, Cold Jet understands that each customer requires a unique solution for their dry ice blasting or manufacturing systems. Our Cold Jet CONNECT Enterprise subscription offers the ultimate connection to our customer with the most comprehensive remote support and analytics package on the market.
First-response, extended-hours access to troubleshooting and service with a Cold Jet Technical Expert.
Guided repair via augmented reality.
Next day shipping for replacement of stock parts.
Complete Care Assurance extends our standard warranty up to 3 years.**
** Enterprise subscription must remain active for extended warranty.
A Subscription To Meet Your Needs
Our customers utilize dry ice blasting or manufacturing systems in unique ways everyday.
Because of this, we offer various subscription tiers to best suit your needs:
Advancing dry ice technologies is what we do best. Cold Jet CONNECT offers actionable insights so you can focus on what you do best.
We're here to help.
Interested, but not sure where to start?
Contact us today to learn more about our solutions and how they will solve your specific application.