How to Buy Dry Ice Blasting & Production Equipment
The Cold Jet Difference
When making a capital investment, it is important to consider the machine as well as the seller. Cold Jet is the OEM and when buying direct from us, you can rest assured that you are receiving not only the best equipment on the market, but also the customer service and support you deserve.
Whether in the market for new or used equipment, you have options when buying from Cold Jet.
New Machines

Cold Jet machines are designed utilizing our best-in-class, proprietary technology that provides the lowest cost of ownership and the quickest return on investment. Buy new to ensure you are taking advantage of the latest in dry ice technology.

Customer Loyalty Trade-in Program Trade in any Cold Jet dry ice blaster and receive up to $10,000 towards the purchase of a new Cold Jet Aero2 Series machine, the most technologically advanced line of dry ice blasters available today.
Performance Evaluation Program (PEP)

A "try before you buy" program, Cold Jet's PEP allows you to evaluate the success that dry ice technology has on your business over a set period of time through a trial rental. The fee you pay can be applied toward the cost of the machine upon purchase.

Certified Pre-Owned Equipment

Certified Pre-Owned Equipment gives you access to Cold Jet's best-in-class technology at a reduced price. Each machine we sell goes through an extensive checklist which involves reviewing the complete system, repairing or replacing any damaged or worn parts, and upgrading when necessary.

Certified Demo Equipment

These units have only been operated by authorized Cold Jet personnel during customer evaluations and demonstrations. Refurbishment on this equipment is the same process as with our Certified Pre-Owned Equipment.

Warranty Information

New machines come with a 12-month warranty. Certified pre-owned and demo equipment come with a 90-day warranty.
Having trouble getting capital approval?
Try our 24 month extended payment plan!
What is the 24 month extended payment plan?

The 24 month leasing program will enable you to avoid the arduous procurement approval process for capital spend and allow you to lower your monthly payment so that you can more easily expense the cost of your machine.
Payments made easy.
We now offer an easy-to-use online pay portal to make paying your bill even easier!
Need a short term rental?
Our network of partners is ready to provide short or long-term rentals. We will connect you with a local provider.
Why buy direct from Cold Jet?
No other company matches our expertise and experience in dry ice technology. Our sole focus for 30+ years has been on developing and innovating the most technologically advanced solutions available. We engineer the highest quality and best performing machines in the global marketplace. With the largest global install base of nearly 20,000, we are the clear market leader.
Unparalleled expertise and experience
Superior technology
Highest quality and best performing machines
The most extensive and expansive customer support resources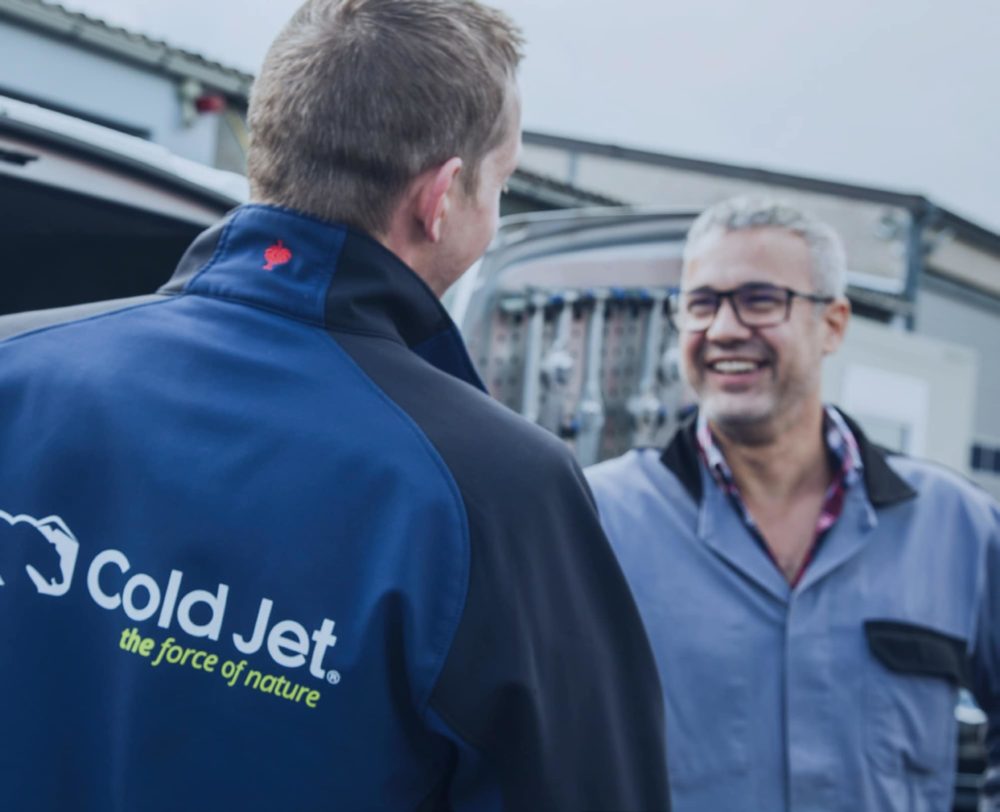 We are local. Everywhere. All the time.
Preserving the integrity of your machines is of paramount importance to maintaining their durability. That's why we have invested heavily in our customer service platform. Our team will ensure that each customer's investment retains its quality and high performance throughout its life span. No brand comes close to matching our level of service or resources.
We are the OEM

We designed and engineered the systems and parts – we know how to find solutions

13 service centers located in 10 countries

Largest install base of human technical resources

Available 24/7, 365 days a year
Largest inventory of spare parts

View our parts and accessories here

Cold Jet CONNECT®

Remotely monitor and diagnose select machines
We're here to help.
Flexible payment options
Whether you are buying your machine new or used, Cold Jet and our partners offer multiple payment options so you can select the one that is best for you.
Standard payment terms
Extended payment plans

Leasing options via partners
Contact us today to learn more.